The 2017 National Day of Volunteering in Sudan
By Hanan Elsinari, Humanitarian Aid Commission, IAVE National Representative, Sudan
For this year's Sudanese National Day of Volunteering, celebrations were held in the White Nile state. The opening ceremony included exhibitions by national organizations and saw a large mobilization of volunteers and humanitarian workers. The Vice President of Sudan and the National Forum for Volunteering were also present during the celebration. Humanitarian Aid Commission, IAVE's National Representative in Sudan, has celebrated the National Day of Volunteering every year since it was first announced in 2005 by the President that July 11th is the official national day of volunteering.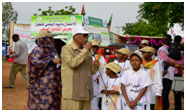 White Nile was host to several volunteering organizations that organized several activities for the celebration. There were seminars for sanitation and environment awareness, as well as pop-up optometry clinic that examined over 5000 patients. A training session was also held to provide resources to over 1000 volunteers in fighting against water-borne and endemic diseases. National organizations and community groups launched several other volunteering projects during the celebration. A pioneering national volunteer organization implemented the first foundations for a dialysis center, with the help of several national volunteers and humanitarian workers.

National organizations showcased their initiatives at an exhibition. Over 100 organizations participated and 2000 volunteers from various sectors were in attendance. National and international figures and organizations who were recognized as pioneers for volunteer and humanitarian work were honored during the celebration.