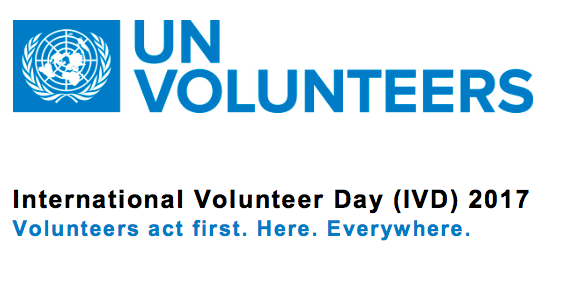 Call for contributions to produce IVD 2017 campaign video
What is IVD about this year?
International Volunteer Day (IVD), celebrated on 5 December, is the opportunity to raise awareness on the role that volunteers play responding to crises and alleviating their disruptive nature once such events subside. This year, IVD promotes the contributions of volunteers as first responders at the local, national and international level, together with communities, civil society organizations, United Nations agencies, funds and programmes, government authorities, and the private sector the world over. In times of crisis, volunteers who help and support others are often victims themselves of the crisis or tragic event, yet their courage drives them to reach out and assist those around them who need it the most.
Objective
Produce a 3-minute video featuring footage and images of volunteers in all regions of the world responding in times of need, helping to save lives and supporting affected individuals to regain human dignity after having passed through a crisis.
The video will advocate the effective support brought by volunteers in times of crisis and assist in creating public awareness of the work that such volunteers carry out, both on an individual basis or as a part of organisations.
Key messaging
Volunteers are present, all around us, answering the call in times of need, helping save lives today, and supporting those who want to continue living their lives with dignity tomorrow.
What kind of images to be featured in the video?
The video will feature footage from a broad range of organizations showing volunteers in action in different regions and responding to peoples' needs in a wide range of crisis situations, in both developing and industrialized countries: volunteers helping people affected by poverty, economic and migration crises, famine, sanitarian, disasters, climate change and humanitarian crisis.
The video is also willing to feature footage from individuals acting as volunteers within their communities facing crisis or in a post-crisis context. Submitted footage and images can be of a current, recent or past crisis.
Requirements for submitting footage or photographs
Content
  All contributions submitted must convey positive messages and should focus on the volunteers in action, in the work environment.
  Video footage or photographs need to be submitted with adequate captions, that state:
type of crisis;
date (as precise as possible);
location (country/region/city/village/neighbourhood);
names of volunteers and other characters appearing;
name of the project (if any);
organisation (if any) of the volunteers; and
a high definition logo, website address and a communications focal point email address of

the organisation (if any).
 A brief explanatory paragraph (up to maximum 200 words stating the nature of work done by the volunteers, their contributions and concrete results/changed obtained).
Technical specifications
 Video footage of HD quality (1920 x 1040, if possible)
File format needs to be preferably .mp4 .avi or .mov
Video codec: High Profile H.264
Frame rate: 24, 30, 60
Resolution and aspect ratio: 1080p and 16:9 (if possible)
Edited footage of the selected scene (please avoid submitting uncut raw footage, we rely

on you to reduce the length of your footage to strong clips of 30-45 seconds, if possible)

Powerful images captured on mobile phones (despite not meeting all the above

requirements) will also be considered for inclusion.
 Still images should preferably be shared in jpeg format (highest resolution possible)
• Minimum requirement: 72 dpi and dimensions of 1920 x 1040 pixels
Respect of intellectual property and the subjects
 Contributing organisations and individuals are responsible to obtain consent from subjects featured in the footage or photographs. You or your organisation must be the rightful owner or creator of the submitted footage or photographs.
Expected output
An engaging and inspirational 3min-video, providing a glance of the extraordinary commitment of volunteers as first responders in times of crisis all around the world.
Institutional arrangements
UNV will collect footage and photographs sent by the individual or organisation and will oversee the editing and production of the IVD 2017 video.
Based on footage received, UNV will develop a video concept, storyline and script and will conduct two rounds of consultation with focal points of contributing organisation before finalising.
The video is not intended to contain only exclusive footage or photographs. Footage that has been used in the past can still be repurposed for this video.
UNV is a facilitator and coordinates the project. UNV will make the video freely available to any organisation who requests it and is willing to promote volunteers and IVD.
UNV and contributing organisation agree to grant the rights to every individual, organisation or government contributing content featured in the final product to list the final video in their personal portfolio (as content contributors).
Moral rights and copyrights of footage and photographs provided will stay unchanged from their original status.
The video cannot be used for promoting a topic different from volunteerism and the theme of IVD 2017. The video cannot be used for any commercial purposes.
The logos of all the organizations that are featured in the video and credits will be displayed at the end. Due to the short length of the video, UNV cannot guarantee that all footage complying with the technical specifications noted above will be featured.
How to share your contributions?
UNV invites you to send a first email showing your interest to contribute to the IVD campaign 2017 video to the following address: [email protected].
UNV will collect your contributions from 1 August until 17 September. Late submissions will not be included into the final campaign video but may be considered for social media purposes.
Footage needs to be shared by WeTransfer, Dropbox or Vimeo. Photographs up to 7MB can be shared by email.