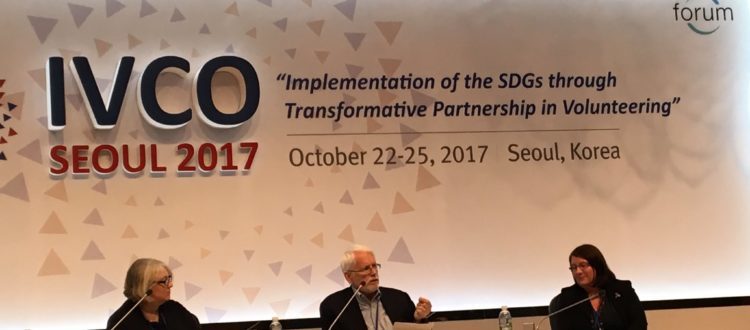 How You Can Walk with Us Toward 2020
By Kenn Allen, Senior Consultant, IAVE
In late October, IAVE's World President, Kylee Bates, and I participated in the annual IVCO conference that focuses on international volunteering for development. Kylee chaired the opening plenary panel and I served on a separate plenary panel in which I focused on corporate-NGO volunteer-based partnerships.
But, as is often the case with conferences, the main work for us was done in side events – a meeting of the Volunteer Group Alliance (VGA) of which IAVE is a member and a combined meeting of the Steering Committee and the Working Group for the 2020 United Nations Global Technical Meeting on Volunteering. Those planning groups are being jointly convened by United Nations Volunteers (UNV) and the International Federation of Red Cross and Red Crescent (IFRC).
This initiative is in response to a 2015 resolution passed by the General Assembly that called for "a global technical meeting) in 2020 to further strengthen the engagement and contribution of volunteers with regard to the 2030 Agenda for Sustainable Development."
It turns out that having a "global technical meeting" (GTM) is not an easy thing to do, especially when done in the context of the United Nations and with a focus on the Sustainable Development Goals (SDGs).
The process leading up to 2020 is already underway. It will include:
an effort to encourage governments to include volunteering in their "voluntary national reviews" of progress on the Sustainable Development Goals that are reported annually in regional meetings and the High Level Political Forum every July a UN headquarters in New York;
development of "national situation analyses" on volunteering by governments in response to a request from UNV, hopefully with active participation by leaders of volunteering from outside government;
regional convenings in 2019 to prepare the agenda for the GTM.
In the coming 10 days, we will be sharing more details about this process and suggestions for how you can participate in it. IAVE is committed to playing a leadership role to ensure that the voices of volunteering from throughout the world are heard throughout this process.