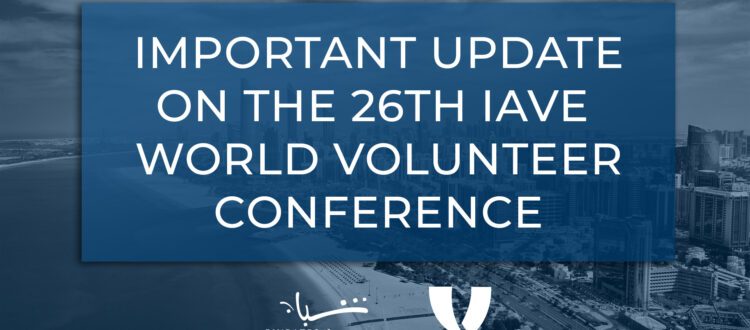 Conference Postponed – 26th IAVE World Volunteer Conference
Over the past several months, IAVE and the Emirates Foundation have been closely monitoring the COVID-19 pandemic and have come to the decision that it is no longer advisable to go forward with the 26th IAVE World Volunteer Conference (WVC) in October as planned.
Thus, we have decided to postpone the WVC to November of 2022 with a specific date to be announced later this year. This was a difficult decision, but the health, safety and well-being of our partners, presenters, and attendees requires that we take this action.
However, while we are postponing our conference, we are definitely not pausing our work. In the coming year, we will be holding events, webinars and virtual sessions to engage our global community and stakeholders and build momentum for the 2022 World Volunteer Conference. Stay tuned for announcements and further details.
Lastly, we want to thank our sponsors, partners and networks for your continued support as we navigate through this unprecedented time. We look forward to seeing everyone in the UAE in 2022, strengthened and reinvigorated.
Thank you,
IAVE & Emirates Foundation