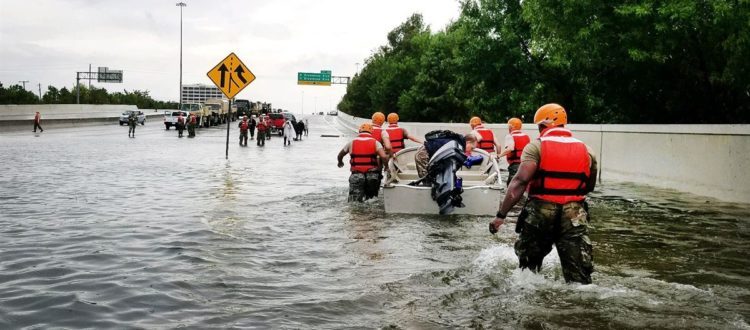 Corporate response to Hurricane Harvey
Hurricane Harvey was a disastrous storm that hit the United States late last month. Within a four-day period, many areas received more than 40 inches of rain. The resulting floods affected hundreds of thousands of homes, displaced over 30,000 people and prompted more than 17,000 rescues. Many corporate members of IAVE's Research Working Group on Disaster Volunteering dedicated their resources to aid in the relief effort.
UPS
UPS pledged $1 million in total with cash grants, product donations, and technical expertise for response. They are working with FEMA, the American Red Cross and Salvation Army, committing an additional $500,000 for the recovery phase.
Airbus
Airbus has offered helicopters to assist in response efforts.
Hilton
Hilton has donated $1 million to the American Red Cross, and is matching all "Hilton Honors Points" donated, which will be converted to cash. Merck has donated 4 million points to Hilton Honors.
BD
BD is working to assess the need for medical products that they can provide. They are currently providing $150,000 for employees impacted by the disaster. BD is also providing a link through AmeriCares for fund matching.
Disney
Disney has partnered with the American Red Cross and has donated $1 million. They have designated a day of giving and are currently announcing on their TV networks where they will match proceeds dollar-for-dollar. Disney is providing assistance to employees with grants of $1,000-5,000 for immediate housing and clothing needs. They are also working on actively linking together nonprofits they work with.
Bank of America
Bank of Americas has earmarked $1 million, with $250,000 for immediate relief, in hopes of creating balance for long-term recovery. They have waived fees to help those impacted receive loans and other financial services. They have many employees in Texas who are actively volunteering with clothing and baby supply drives. Bank of America is currently their matching donations dollar-for-dollar.
Google
Google kicked off a donation matching campaign to support the American Red Cross. They matched all donations up to $1 million. In less than 24 hours, they raised $2 million for relief efforts. They have committed and additional $750,000 through Google.org and employee giving. Google is also providing resources through SOS Alerts, Crisis Map other Google products.