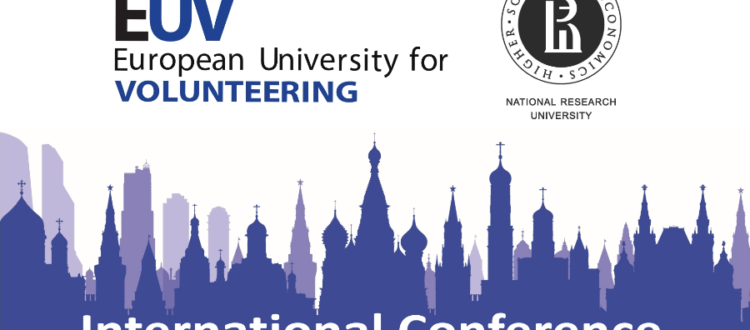 European University for Volunteering – 9th Session
From May 21-23, 2019, the European University for Volunteering (EUV),  together with National Research University Higher School of Economics, will hold its 9th session of the European University for Volunteering Conference titled "Volunteering: Improving Society, Develop Personality". The event will take place in Moscow, Russia.
The conference features a diverse agenda of real issues in the field of volunteering research, exchange of volunteer experience, and implementation of effective volunteer initiatives in Russia and foreign countries. This will include discussions about the results of the Year of Volunteer in Russia, the contribution of volunteer service in the development of a society, evaluation of impact and effectiveness of volunteering efforts.
The Conference will bring together leading Russian and international academics, representatives of government and non-profit sector, leading experts in the field of civic engagement and volunteering from Russia, CIS states and Europe. The Conference program will consist of plenaries, round tables and discussions, presentations of best volunteer practices, introduction with NGOs and social initiatives in Moscow.
Participants will be invited to submit abstracts of their papers for presentation at the Conference's sessions. Online registration and Call for Proposal have opened from January 15, 2019 until March 15, 2019. Click here to learn more and apply.
The European University for Volunteering is a promoter of knowledge and innovations on volunteerism. EUV focuses on research linked to volunteering and the volunteer sector. It was first established in 1993 and is a 'traveling university', moving to around to different European cities.
The 9th session is organized  by HSE University, Center for Studies of Civil Society and the Nonprofit Sector, with the support of partner organizations and foundations. Since 2017, United Nations Volunteers (UNV) has been the main strategic partner of HSE conferences geared towards researchers and practitioners of volunteering. The International Association for Volunteer Effort (IAVE) is a partner for the 9th session of European University for Volunteering. We invite you to register to join HSE and EUV at this year's event!