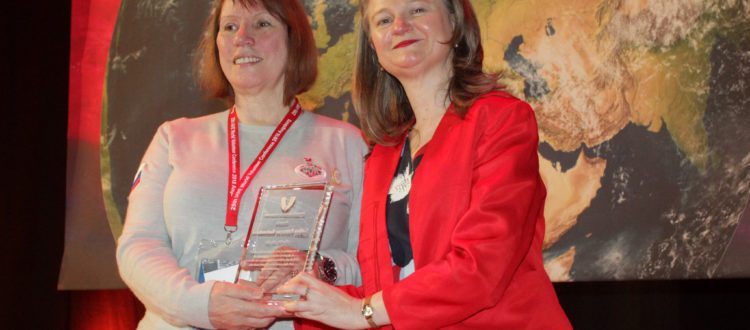 Galina Bodrenkova awarded the IAVE Life Membership
Galina Bodrenkova has been a long time member of IAVE and leader of volunteering in Russia. For her great contribution to the development volunteering, Galina was presented the 9th IAVE Life Membership Award during the 25th IAVE World Volunteer Conference by Kylee Bates, IAVE World President. Below is the video of the award presentation and Kylee's commendation speech.
As the global leadership voice for volunteering every so often IAVE identifies an individual who is deserving of special recognition for their role in connecting people and sharing knowledge that supports the development of volunteering worldwide.  When we do we make the decision to award Life Membership.
Today I am honoured to present only the 9th Life Membership Award to Galina Bodrenekova.
Galina – please join me on stage to accept your Award and while you are making your way up I'll share why Galina is deserving of the Award.
Galina is a true pioneer leader of "modern" volunteering in Russia.  She has been a member of IAVE since 1991, has been a participant in every world conference since 1994, except India in 2006, and in the World Youth Volunteer Summit in Baranquilla.  She was National Representative for IAVE from 1999 to 2015 and a member of our board of directors from 2008 through 2012.  She has been an advocate for IAVE, constantly seeking or creating opportunities for IAVE to have visibility and engagement in Russia.
But Galina's true contribution has been to the development of volunteering and the policies and infrastructure needed to support and sustain its emergence in post-Soviet Russia.  She created the Moscow Charity House to serve those displaced by the rapid changes in society, an all-volunteer effort that served as her base.  She learned English so that she could learn from her peers around the world.  She helped develop local volunteer centers throughout Russia, largely through her personal advocacy and leadership.  She has authored books on volunteer management and been an expert consultant and trainer.
Technically retired, she remains an active leader, often working behind the scenes to prepare and promote others and continues her passion for volunteering and IAVE.
– Kylee Bates, IAVE World President