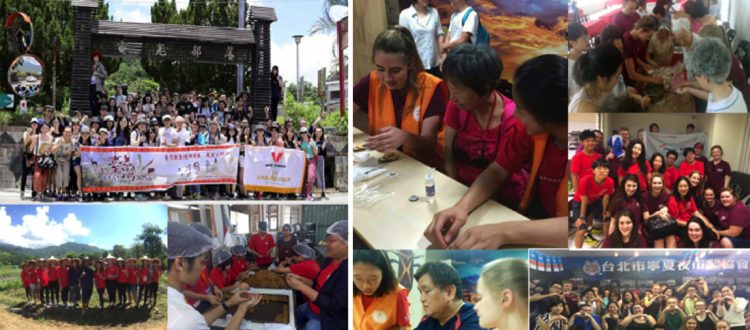 Summer volunteer exchange program in Taiwan
By Debbie Huang, Volunteering Taiwan, IAVE National Representative, Taiwan
At the end of June, Volunteering Taiwan kicked off the summer camp programs called "Hong Kong – Macao – Taiwan Cultural Exchange Program" and "Scotland and Taiwan Volunteer Exchange Program" in Taipei. Volunteering is the best catalyst for young people from different cultures to work as a team for social welfare. Through leadership training, team building and taskforce leading, youth volunteers got involved in various community work using their professional skills and cultural background. We kindle the enthusiasm of these youth volunteers and the community people to cooperate with and learn from each other.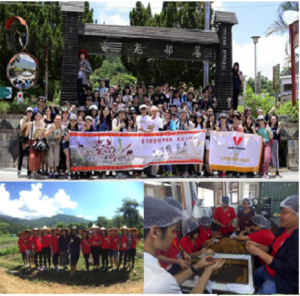 Since 2015, Volunteering Taiwan has participated in the "Hong Kong – Macao – Taiwan Cultural Exchange Program" to encourage andfacilitate volunteerism in Chinese society. This year 100 students were sent to work at "Bunun Indigenous Tribe", an eco-village located in the beautiful rift valley between the Pacific Ocean and Taiwan's Jade Mountain, to work on an eco-tourism project. Students were split up and assigned to different taskforces: organic farming, gardening, cake-making, restaurant service and housekeeping. They also had the chance to experience the indigenous arts and handicrafts presented by tribal mentors. During the 5-day program, the student volunteers learned about the unique south inland culture and their natural lifestyle in mountains of Taiwan.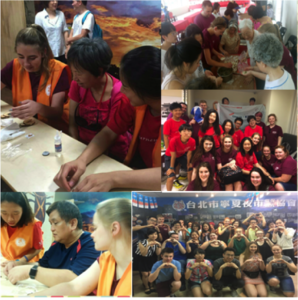 At the same time, a group of youth volunteers from Dumfries, Scotland landed in Taipei after a 15-hour flight. Mark Molloy, the IAVE Regional Representative for Europe, kept his promise to pay a return visit two years after Taiwan had sent a group of youth volunteers to Dumfries in 2015. This program was aimed to get an enhanced understanding on the work of youths and to learn more about social inclusion policies in Taiwan. It also aimed to establish a partnership and friendship between youth of Taiwan and Scotland while engaging in the "Learning by Doing" model and acquiring the unique experience of youth volunteering in Taiwan.
Volunteering Taiwan arranged a series of workshops to help the youth from Dumfries to enhance their understanding of youth volunteering from the perspectives of governments and non-governments on national and local levels in Taipei. The following affiliated partner organizations joined the reception: the Youth Development Administration, the Ministry of Education, Garden of Hope Foundation, Y17-Taipei City Youth Recreation Center, Well Doer Volunteer Association, Xidian Community Organization, and Eden Social Welfare Foundation. They experienced the diversity of social projects in the metropolitan area such as woman empowerment, elderly care, visual disability care and marketing for disadvantaged farmers. We believe the exchange program has not only spread awareness of volunteering in Taiwan but also blossomed a lasting friendship for the youth from the participating countries.