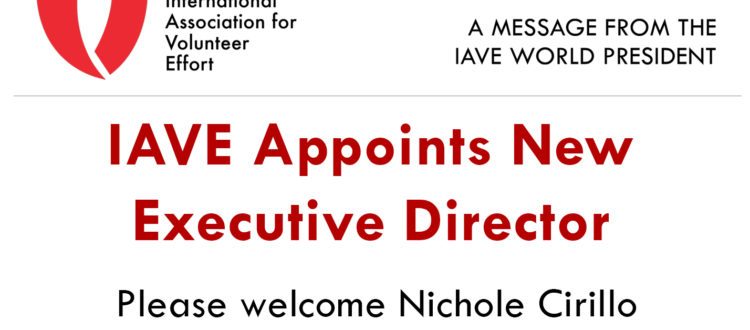 IAVE Appoints New Executive Director
Following a rigorous search and selection process, on behalf of the Board of Directors of the International Association for Volunteer Effort (IAVE) I am pleased to announce the appointment of Nichole Cirillo as Executive Director of IAVE.
Nichole brings to IAVE significant executive experience across environmental and social justice sectors and has led the engagement of a large network of global volunteers. Her roles have included Mission Director & Head of PR at Stonyfield Organics, International Director of Learning at Earthwatch, Senior Manager, Outreach and Mobilization at Unitarian Universalist Service Committee (UUSC) and Executive Director at Friends of the Public Garden and Boston Common.
At Earthwatch Nichole led the implementation of a citizen-science volunteering program related to fresh water across 36 cities globally, developed and managed a sustainability leadership volunteering program that built a climate leadership network of 1400 finance executives across five continents. Nichole's role at UUSC saw her lead the design and implementation of a capacity building strategy for global social justice grantees, and train and mobilise volunteers for disaster relief in Africa and Haiti.
Nichole has extensive leadership, management, fundraising and communications experience, gained working with teams of staff and volunteers in different parts of the world. Importantly Nichole herself has been a volunteer for much of her life and partnerships building has been a common theme throughout her career.
Nichole holds a Bachelor of Arts (Political Science) from Rutgers University and a Master of Urban Planning and Environmental Policy from Tufts University. At 18, Nichole was a recipient of a Rotary International Scholarship.
We are delighted that Nichole will be joining us as Executive Director and will lead IAVE through the next exciting phase of IAVE's growth and influence on the development and impact of volunteering globally. Nichole will take up her appointment on 14 October.
The board would also like to express its thanks and gratitude to Dr Kenn Allen who has served as Interim Executive Director for the past 18 months. Kenn has played an important role in leading the IAVE staff team and supporting the board over this time, ensuring that we have delivered on or been able to progress key initiatives. Kenn will support Nichole during her transition into the role and will continue to play a role with IAVE as Senior Consultant.
Please join me in thanking Kenn for his leadership of the past 18 months and warmly welcoming Nichole to the IAVE family. I know that she is looking forward to connecting with you in due course.
Kind regards

Kylee Bates
World President