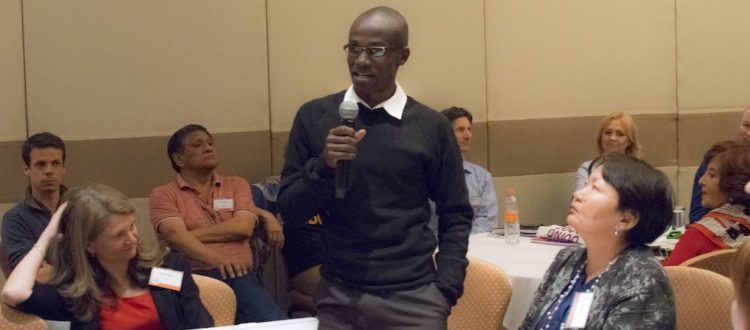 IAVE World Conference 2016 in Mexico Created an Experience of a Lifetime
[Editor's Note: We were happy to welcome Fred to the 24th IAVE World Volunteer Conference and the National Leadership for Volunteering Research Pre-Conference Meeting in Mexico City this past November. We were very sorry he fell ill and could not experience the full extent of the event. We would like to express our gratitude for all those who helped in Fred's recovery, from the dedicated doctors and nurses at the hospital to Susana Barnetche (IAVE National Representative, Mexico) who opened up her home to Fred while he recuperated from his procedure. This is his story on his relationship with IAVE and his experience in Mexico.]
It was in 2014, towards the end of the year that I learned about the International Association for Volunteer Effort (IAVE). This I did through two of my colleagues, Ms. Agnetta and Dr. Gichuki who had earlier engagements with the organization. Later, Agnetta connected me with Ms. Ramona, at a time IAVE was conducting a survey on volunteer centers around the globe. We started communicating with her, until we finally met in Kigali, Rwanda in June, 2015 during IAVE Africa Regional Conference. While in Kigali, I had an opportunity to be a speaker in one of the sessions and shared about the steps my country, Kenya, was undertaking to promote volunteering through policy and legal infrastructure development. I also had a lengthy interview with Ramona. The experience in Rwanda was great and I developed a keen interest in IAVE for the simple reason that it brings several organizations around the world to focus on volunteering. It provided for a networking and collaboration platform, and so, I kept communication with Ramona. I was aware that the IAVE World Volunteer Conference was in 2016. I was upbeat, despite the fact that financial resources were limited, my hope and optimism were high.
In early 2016, things were getting better in the volunteering field. The Cabinet had approved the first ever National Volunteerism Policy. This made it even more exciting to think about the World Conference scheduled for November in Mexico City. Deep inside, I felt convinced that we as Kenyans had a great volunteering story to share on a global platform. It had taken real work and commitment from both the Kenyan government and the Volunteer Involving Organizations (VIOs) to get a volunteer policy approved. Seated as the Secretary and National Coordinator to the VIOs network in Kenya, the policy approval was truly humbling and promising. I therefore signed up and applied to be considered as a speaker during the conference, under the topic development of legal infrastructures. I looked forward to showcasing Kenya. Before that, two things had to happen: one, I had to be selected amongst other applicants from all over the world and two, I had to be ready to meet travel expenses.
As time drew closer, I was nervous. I kept checking with Ramona on the progress. Then finally the good news came through! I had been selected as a speaker out of over four hundred applicants. As a guest speaker, there was a possibility to secure some of the scholarship fund to participate. I made several prayers. As a believer in the Christian faith, I allowed myself to accept that all would happen according to Gods own will. Finally, word came through that my travel and accommodation would be catered for. Luckily enough, which to me was a blessing, IAVE got some scholarship funding and I was chosen to be among the few who benefited from it. This was yet again another humbling and exciting news. I kept telling myself, "May God lead me in wisdom to make a strong case for Kenya as well as to allow me to learn from other colleagues around the world." This became as a prayer ringing in my mind always.
Even as I was assured of my travel to Mexico, I kept on seeking support from volunteer involving organizations and friends. I just wanted to be sure that all would be well. No positive response was forthcoming. All the while, work also had to be done and I was so much engaged in the development of a National Volunteerism Bill. Around the second week of October, 2016, I had a serious cold. It lasted almost two weeks. This, combined with no positive response in terms of at least some extra support made me worried, however, my spirit and determination to attend the World Conference was not dampened. Time was moving fast, I had secured my Mexican Visa. Since I was to travel through Frankfurt, I applied for a Schegen Visa to transit through Germany.
Interestingly, one day, my two brothers, John and Steve visited me. We were sharing on expectations about the whole opportunity to visit Mexico and the fears therein too. It was an interesting story that day – we shared on stories related to soap operas, President Donald Trump, then a Presidential Candidate's remarks on Mexico and Mexicans, cartels and drug barons stories.. At some point, my brothers and wife Maureen wanted to be sure if at all I was feeling well enough and ready to travel. The common cold two weeks earlier had left me a bit nervous. They could tell, even though I insisted that we should focus on the positive. Inside of me, I was very elated and wasfully focused on my travelling whose date was just a few days away. To make a strong statement, I told my wife, Maureen and brothers that God was not so foolish to take me all the way to do me harm or bluntly to make me die in a foreign land. This stunned them, but, it changed the story. For sure, I was fully convinced that I was going to attend the conference for the good of my country and the work I love to do, volunteering
The day came, 3rd November, 2016. I had to travel at night, but, had to wait to get a Visa to transit through Frankfurt, Germany. By 3:00pm, I hadn't gotten any communication from the German Embassy in Kenya. They had my Passport. I rushed to the security agency where the Embassy deposits outcomes of Visa application and Passports. Mine wasn't there. I had to write quickly to Ramona and the travel agency. Within less than 30 minutes, my travel was changed to 4th November 2016. Early morning on 4th I went to the German Embassy. Frustrated at the report I got, I had to cancel my Visa application and retrieved my Passport. Kenyans do not need a Visa to pass through Frankfurt, as long as she/he do not leave the transit area. My colleague, Shadrack and Dan came in and supported me with a total of one hundred and fifty dollars for my drinks and taxi. All was set and I left Nairobi for Mexico City at nigh
I had a great travel to Frankfurt. The stopover was enough for me to walk around window shopping around the duty free shops. We left Germany for Mexico. I was delighted. All was well. Two hours before landing in Mexico, I felt a sharp pain on my right chest. It took some minutes then it cleared. I thought to myself it was just fatigue due to the long flight. I landed well. Took a taxi to the hotel. Along the way, I requested the taxi driver, a charming lady, to pass by a pharmacy so that I could buy some vapor rub ointment. We could talk due to language barrier, however, she understood and took ne to a chemist. In the chemist, language was a challenge, somehow, I was able to get what I wanted. This brief experience from the Airport to the hotel started to make me feel very comfortable with the Mexican people. They were warm, charming, welcoming, tender and real – they were a loving people! At the Mexican Embassy in Nairobi, I had met a warm and welcoming great lady. She was the head of consular section. Then in Mexico, I could add up for real.
I arrived in Mexico on 6th Saturday evening. I Had a bit issues with time, since Mexico is 9 hours behind the usual time I was used to. I had my shower, massaged my joints using the vapor rub and had a long sleep. I woke up well on 7th Sunday to attend Good Deeds Day Conference. I met with volunteer leaders from across. This was Good Deeds Day first world conference. It was great. I also met, Agnetta my colleague from Kenya. She had come to Mexico earlier to attend the IAVE youth conference in Puebla. She encouraged me to take a lot if water to manage effects of jet lug. The day ended well, we had great engagements with colleagues, shared on examples from Kenya. It was the great moment to put wisdom at work and drive the Kenyan volunteering Agenda in relation to other countries
The next day, Monday 8th November, was to be the official opening ceremony of the conference. This was to happen in the evening. Earlier in the day, we had to attend IAVE workshop. After breakfast, I went to the workshop venue. As I was walking up the lobby, I felt very sharp pain on my belly, from the right side. Immediately, I started feeling difficulty in breathing. I relaxed and it calmed down. I however informed Ramona. Hotel paramedics were called to check me. They found that my blood pressure was slightly low. They gave me some sugary drink to boost the pressure. I observed my body changes up to after lunch. The pain came again. I had to go and rest. I the meantime, arrangements were made to have a doctor come over to examine me. This time, I had met Shadrack my colleague and friend from Kenya. We shared and he encouraged me to be strong.
When the doctor finally came, he observed that I had problem with the gall bladder. I told him that going to hospital was all I needed. Very quickly, arrangements were made and I was rushed to Hospitales Angeles. After couple of hours of keen examination and tests, I was diagnosed with a condition known as bullous lung disease. The only way was to undergo through a surgery to correct the condition. There was also the opinion of stabilizing me to travel back to Kenya for the procedure to be done at home where family and friends will be around to support me. This option was very risky. My colleagues at the conference were very worried about these developments. Kenya has no consular office in Mexico. They had to call Kenyan Embassy in Washington DC in the US. I spoke with an official at the DC office.
Decisions had to be made. First, there was the need to inform my family. I told my colleagues and the official from the Kenyan Embassy in DC that, as it were, I wasn't going to inform my family. He was a great guy, Julius, what he did was to organize to have a Kenyan lady, Amondi, to be checking on me. (Amondi was to be in constant contact with me until only a day before I left Mexico for Kenya, such a great person she is.) The other tough decision to be made was if I would agree and flown back to Kenya or agree to have the surgical procedure done in Mexico. Travelling back had a higher risk of complicating my condition mid-air, its advantage was, should I have made it safely back to Kenya, I would be treated at home, friends and family will be ready to support. The hidden fear I had was how hectic it would have been to raise enough finances to pay for the surgery. At least, in Mexico, I had a travel insurance I could use. The other was to decide to have the surgery done in Mexico. The first challenge on this was, after the 11th when the Conference ended, everyone I knew will travel back to their countries and I will be left alone. The other worry was, should something go wrong during the surgery, it would have complicated the whole scenario.
All the same, a decision had to be made and it was all left to me. As all these happened, I was calm and very deep in prayers. It was like a voice kept on telling me that all will be well. This voice was so strong that even as my colleagues and the conveners of the conference were all worried and afraid, I was rejoicing in Gods assurance of good health and life! The time came and after listening to the doctors and my colleagues, I told them that I had made a decision. I was very ready to have the surgery done in Mexico. I was determined to make it, as the voice in me kept on reassuring that all shall be well. My travel insurance was called and the big shocker, Mexico was not covered for in-patient care. They told us to use cash as would be needed and make claims later. When I heard this, it is the only time I felt worried. Later, Ramona came and told me that IAVE and colleagues from around the world were ready to pay for my treatment. This news brought me to a much higher levels of hope. I told it to myself, "Fred, you have always believed that you are a global citizen, all will be well". It was now for the team to put resources together and the doctors to decide on the right procedure to use.
While all these were happening, the conference was officially beginning, it was the 8th November. IAVE leadership and the conference organizers were exploring many ways to help in my case. I was told that it was then that through Susana, the President of the conference shared my story with a lady, who also shared with her husband. It was like things happening too fast and for good reasons. This connections made it possible for me to be transferred to a government hospital, the General Hospital of Mexico. I was told that the government had taken over my case. This was a surprising good news. In my prayers, I asked, "..who am I God that you are doing all these to me..?"
I was finally at the general hospital. Ramona was by my side. My colleague Shadrack had to go to the conference to represent me during a breakout session in which I was s guest speaker. Once in the hospital, several doctors came to see me. One introduced himself as Dr. Benito. He briefed me on how I ended up at the general hospital. He informed me that he will lead the surgery. Interestingly, he mentioned to me that another doctor, Dr. Navarro is very much keen on my case. He confided to me that I'll not pay a dime for all my treatment. This was amazing and humbling. When he linked the support to the fact that they were helping me on the basis that they heard I am a volunteer in Kenya, working to support others on a voluntary basis, and so, they were also doing good to me as recognition to my good work, I shed a tear. Later in the night, Dr. Navarro came to visit me too. He introduced himself to me. We shared briefly and he reassured me that all will be well.
Once he left, the patient on a bed to my left rose up and said hallo to me. He was a charming guy. He spoke, "Hey men, you from Kenya..? I have been to Nairobi, such a nice city… Anyways, are you a dignitary from the government?" I asked why and he proceeded to say, "..men, the doctor who has just seen you is not your ordinary doctor, he is the immediate former director general of the whole hospital, a highly respected medical mind in our country. The other doc who visited you earlier, Dr. Benito is also a gifted medical practitioner. Men, you are in the right place in the right hands. Sleep well, don't worry all will be alright. If you doubt it, look at me, Dr. Benito led my operation to remove a huge tumour from my body, look at me, I'm fine..!" He then told me to allow him to sleep. His words were so loud in my mind that I immediately fell asleep. All was set and I was even more confident to go through the surgery. Earlier, another humble doctor, Dr. Carloz had told me that both Dr. Navarro and Dr. Benito were his medical students. On a light note he said that he will be present during my surgery to ensure that his former students did a good job. For me, I took all these seriously as Gods revelation on how His time had come to have me get the best care.
On the 9th November, 2016, I had a successful surgery. Everyone was happy. I was overjoyed. We took photos. While taking my food that evening, I felt dizzy and was soon passing out. I called out to Dr. Benito who was in the ICU. He rushed by my side. All I remember to have told him were, "Doctor, if I have to go back to the theatre, take me, I cant die. Do your part, God will accomplish the rest. I trust in you, and God will guide you, I'll come out alive." Then I passed out. I was taken for an emergency surgery. By Gods grace, I came out alive. (Before I left Mexico for Kenya, I asked Dr. Benito if at all they felt at some point they'll loose me. He was candid. On the second day after the second surgery, they were not so sure if at all I would have made it. On the third day, they experienced great change in my transformation that on the fourth day, I was taken out of the ICU ti the normal wards. On a light note, I made comments that my Lord rose from the dead on the third day and he may have just risen in me!)
Everyone was happy again. The tension was gone. I was weak in the body, yet very strong in the spirit. I felt it was necessary to inform my family. I broke the news to my wife. She was awestruck, at the same time happy for me. I reminded her on the statement I made to them before I left Kenya – was not going to die in Mexico. She laughed, a heavy one though. The long wait had just started for her…when will my husband come home, is most likely the question that hanged in her mind the longest.
Time was running so fast, the conference had ended, all colleagues had travelled back to their countries, including my friends Agnetta and Shadrack. A few of IAVE leadership were still in Mexico. Ramona was there to offer every support. While in the wards, I realized great transformation. My doctors were impressed with the progress. I was responding so well to treatment. I had close monitoring by the doctors. Dr. Navarro and Dr. Benito and the whole team of doctors were visiting me and kept a very keen eye on my transformation. Everyone was kind to me in the wards. Several dignitaries from government and from different organizations paid me a visit.
All through this period, I experienced so much love far beyond my imagination. Patients in my ward were always ready to help. They were leaving their beds to assist me. Sometimes, their relatives were so quick to help me too. Ramona had to leave Mexico. She left me under the care of Ms. Beatriz Bell. Things were just happening so well. I came to meet great people. I was visited by this beautiful soul, Mrs. Carollina Navarro, who had made it possible for me to get treated at the hospital. One day, she brought along some medical clowns to make me happy. An interesting guy, Raul was admitted at the hospital. He brought a small transistor Radio. He would tune it a little bit and oh yes, I enjoyed every moment with this guy. He encouraged me to eat, started teaching me some Spanish words. I also interacted with great nurses and support staff. A well built young man, Toño as they called him; used to handle me with much care, taking me around for X-ray and helped me to visit the bathroom for shower.. Another amazing lady was Monica Villalpando. When Raul left with his 'nice music' Monica brought to me her IPod. There was this good soul too, Paty Anselmo. She was taking care of her dad, Papá Anselmo. This lady really helped me.
As my discharge date approached, Beatriz had to travel go Panama. Someone was coming to take over. This was someone I had just been told about. She was coming to take over my care to the point doctors will allow me to travel back to Kenya. Ramona and Beatriz had told me about her, she was the one who made things happen. Susana Barnetche she was! When I first met her, I felt like my mother had come to see me at the hospital. (My mum passed on way back in 1995) On this day, I remembered her and Susana was the true mother of the moment. However, I felt that I would be a bother to her. She was of age. She was charming, loving, caring and I was proved all wrong after staying with her for twelve days before I left to Kenya. Susana took very good care of me. She did it so lovingly that my healing was getting better each day.
Susana enabled me to experience the true love of the Mexican people. She arranged for me to visit different places, organized for me to meet with many people. I had a chance to share very fond moments with lovely children at the Renovacion where she is the team leader. I was able to attend two amazing Orchestra performances. Had a meeting and Interview at the UN Headquarters in Mexico.
I have always known that after care following a discharge from hospital is very crucial for recovery. It can go either way, good or bad. Susana ensured that mine went the best way. I met his son Julio and his wife and child. It was all a refreshing experience. I was later to tell her that I felt I would be a bother to her and instead, I thought it was me to care for her. That is how I was brought up, young people take care of the old. She laughed it off a d told me that IAVE Chief Executive then, Kathi Dennis felt the same too.
I kept constant communication with my family and friends. Everyone was praying with me. Encouragements and best wishes were flowing in. Susanas friends and colleagues were calling her to check on my condition. Dr. Benito and Dr. Navarro were always in constant contact with her, just to be sure that all was fine.
Where do one get such great love, care, support and happiness in times of difficulty…is it easy, do it come easy? Humbly, I think it is not your everyday cup of tea or coffee to experience this. For me and many, it was and still is a miracle. This makes me go on my knees so often, thanking God for the great things He has done in my life.
IAVE World Conference 2016 was not meant for me to attend the usual meetings and workshops, no, it was God given opportunity for me to experience real and total love to get back my health to continue serving Him more, even if it meant just a single day! Not until you experience love defeating evil, life given by God overcoming death can you realize the supernatural power over human. This power to me is God given and I celebrate life.
I walk around feeling so satisfied as a global citizen. Why? Global citizens came to my rescue in times of great need. My experience is a true testimony that it can only take good people to continue doing good, either in a small way and/or big way to make the world a better place for all of us. In so doing, we shall overcome evil.
A special appreciation to IAVE, Amevol, Cemefi team, Ramona, Carollina, Susana, Monica, Beatriz, Dr. Navarro, Dr. Benito, Dr. Carloz and medical and support staff at General Hospital of Mexico. Similarly to my Kenyans colleagues, Shadrack and Agnetta and to the Kenyan Embassy in Washington DC.
I will forever live cherishing fond memories and moments I had in Mexico. And to the gallant people of Mexico, I shall forever tell of your love and goodness. I am part of you, I live just as much Mexican as you are. If your doubted it, remember, your blood was a source of my living today. I feel it every moment of my breath.
Since I came back to Kenya, I have paid a courtesy call at the Mexican Embassy in Nairobi. I met the Ambassador and Head of Consular Section. Shared great moments together. I had the chance to come along with my wife and children to say an official thank you to the Federal government of Mexico. I hope to visit Mexico again to meet her great people again.
To the IAVE team, create more platforms allowing us to continue bringing our minds together to promote volunteering. To all my international colleagues, I say a big thank you and look forward to our continued collaboration globally.
Viva Mexico. Viva IAVE. Viva Susana. Glory be to God.
Fred Sadia,