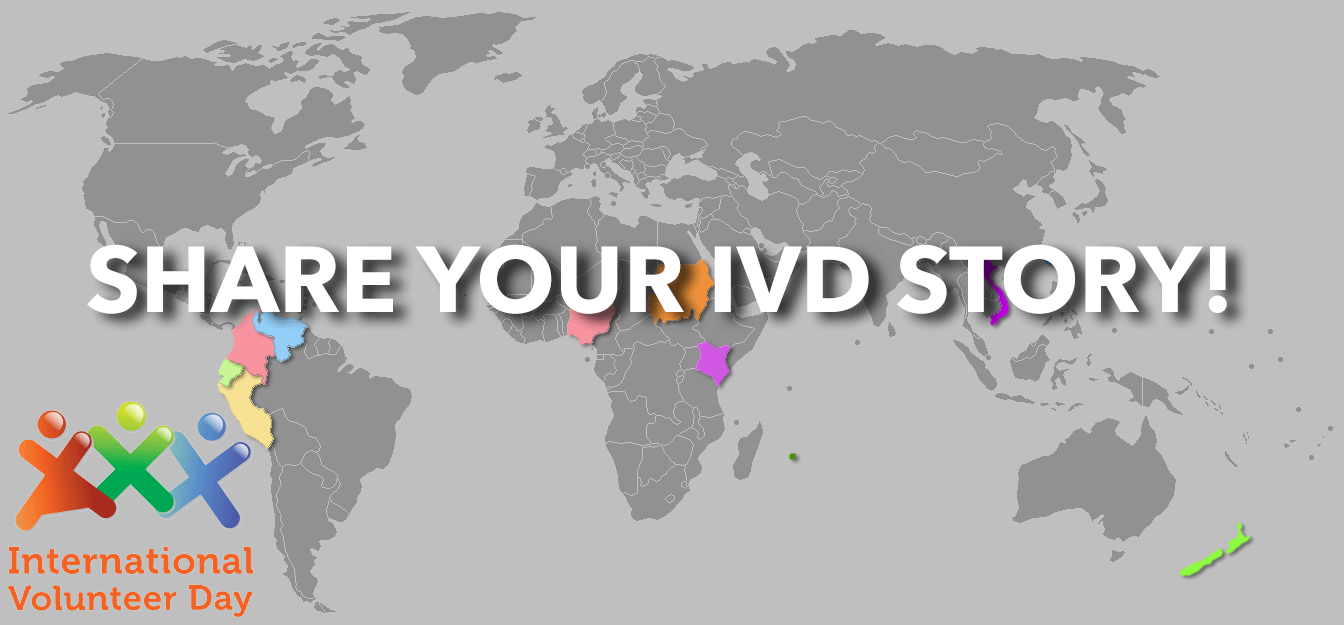 International Volunteer Day 2015
On Saturday December 5, 2015, volunteers celebrated International Volunteer Day all around the world. First established by the United Nations General Assembly on December 17, 1985, IVD is a designated day to annually observe the importance of volunteers and their work in contributing to socio-economic development activities. Governments, NGOs and other stakeholders are invited to annually observe volunteers on December 5th, and to stimulate greater awareness of their contribution to socio-economic development.
This year's International Volunteer Day was especially important as it paid special praise to volunteers working to implement the new Sustainable Development Goals. IAVE members all around the world celebrated IVD in a myriad of ways, from organizing service activities to hosting advocacy seminars to further promote volunteering in their respective countries. Read more about their celebrations below:
Ecuador
Hong Kong
Kenya
Mauritius
New Zealand
Nigeria
Peru
Sudan
Taiwan
Venezuela
Vietnam

Ecuador
In Ecuador, IAVE National Representative, ACORVOL, produced and circulated 30,000 copies of a supplement promoting IVD and engaging its citizens to take action. To read the full supplement in Spanish, click here.
Hong Kong
This year's IVD is especially significant to Agency for Volunteer Service (AVS), IAVE's National Representative for Hong Kong, as it also marks the organization's 45th anniversary!
To celebrate IVD, AVS produced a 30-second video with the theme "Go Volunteering!" which is being broadcasted on the city transit system in Hong Kong, as well as through other media outlets.
An IVD event page was also created, listing 101 Ways of Volunteering to encourage volunteering in all its form on the special day. People were invited to share their volunteer stories through text, pictures, or video via the IVD FB page.
The International Volunteer Day Recognition Ceremony was held on December 6th, 2015. The Honorable Lau Kong Wah, Secretary for Home Affairs, officiated the ceremony and presented awards to outstanding volunteers. The Heroic Volunteer Award was conferred to two outstanding Hong Kong citizens who have demonstrated great courage and fortitude in risking their own lives to rescue others.
Kenya
The local government in Makueni County is hosted the celebration for International Volunteer Day in Kenya. During the celebration, volunteers planted over 500 trees in the community with the motto "Greening Makueni County".
The overall national campaign was called "Lead the Change".
Mauritius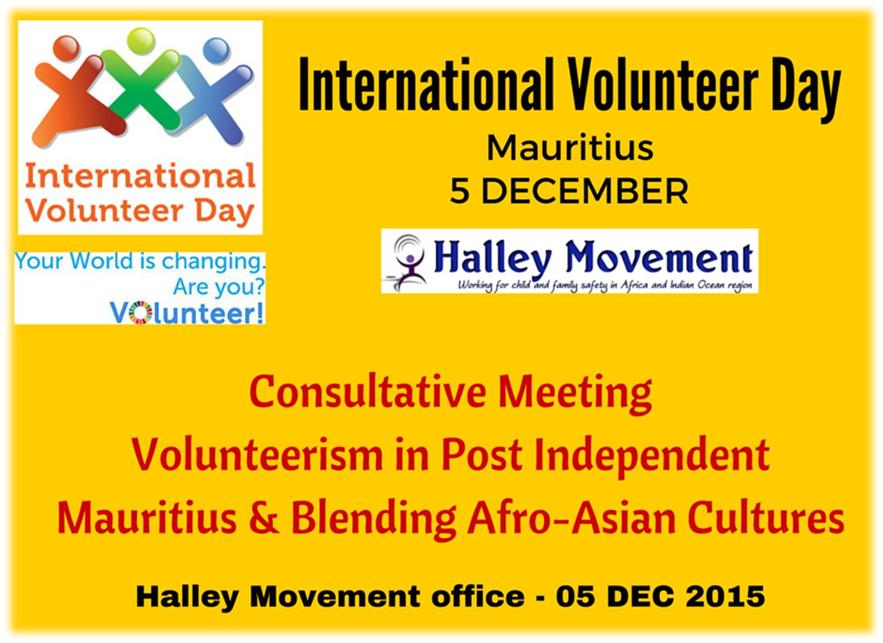 Halley Movement, the IAVE National Representative for Mauritius, hosted a consultative meeting on "Volunteerism in Post Independent Mauritius & Blending Afro-Asian Cultures" at our office on IVD.
New Zealand
For this year's IVD, VNZ, IAVE's National Representative for New Zealand, have applied the theme to celebrate the many hands Transforming Governance through local, national, and international levels. This theme is also linked to the important role volunteering plays in achieving the UN's 'Sustainable Development Goals.' VNZ stresses the importance of the engagement, commitment and hard work of volunteers to develop sustainable communities both locally and abroad.
Nigeria
International Volunteers Day 2015 was another great opportunity to demonstrate the value of volunteering and IAVE activities in Nigeria.
The IVD celebrations started two days before IVD, with public announcements made on radio and television stations to spread awareness about the roles of volunteering in our communities and the work IAVE has done.
On IVD,  IAVE members, in collaboration with Vision Africa Radio Volunteers, visited the Federal Medical Centre (Queen Elizabeth Specialist Hospital) in Umuahia. They visited six wards: Obioma, Nkasiobi, Okpara, Crowther, Bartley and Ludlow wards. At these wards we joined the staff members to help clean up the facilities. Afterwards, IAVE Nigeria donated toiletries which included toilet papers, soaps, laundry detergents, and disinfectants to all the patients in those wards.
Peru
IVD celebrations took place at the Plaza Mayor in Lima, with attendance from volunteers, corporations and government agencies. The celebration not only called attention to the SDGs, but also focused on the El Niño weather phenomenon, which is currently threatening to bring flooding and drought throughout the nation.
Sudan
Sudan held three events in honor of IVD. The theme for this year's International Volunteer Day was "Together we can". The Voluntary Forum for Development and Relief, the first Forum comprised of CSR representatives from various companies and members of civil society organizations, convened at the Grand Holiday Villa Hotel to discuss a paper on the Partnership for Smart Growth by Dr. Hanan Abdul Karim, from the Arabic Network for Social Responsibility- Dubai. His Excellency Dr. Amel Bili, the Minister of Welfare and Social Security in Khartoum State, Mr. Hassan Abkhazia, the Commissioner of Humanitarian Work in Khartoum State, and Osama Mustafa Suliman, IAVE's Arab Nations Regional Representative were present, along with over130 participants from 55 volunteering organizations and 10 companies. The event was sponsored by MTN Communication Company.
Later that evening, a paper about IAVE's experiences in promoting volunteering was presented in a public park to promote and celebrate volunteering.
Lastly, volunteers have been collecting winter clothing for those in need, through a campaign, with help from celebrities and the media.
Taiwan
Since the announcement of Taiwan Volunteer Service Act in 2001, IVD has been an important part of Taiwan each year.   The Ministry of the Interior, R.O.C., along with different government agencies and voluntary organizations, held a series of activities on International Volunteer Day which included rewarding outstanding volunteers, hosting a photo competition for volunteers, and holding meet-ups from early November to the date of IVD.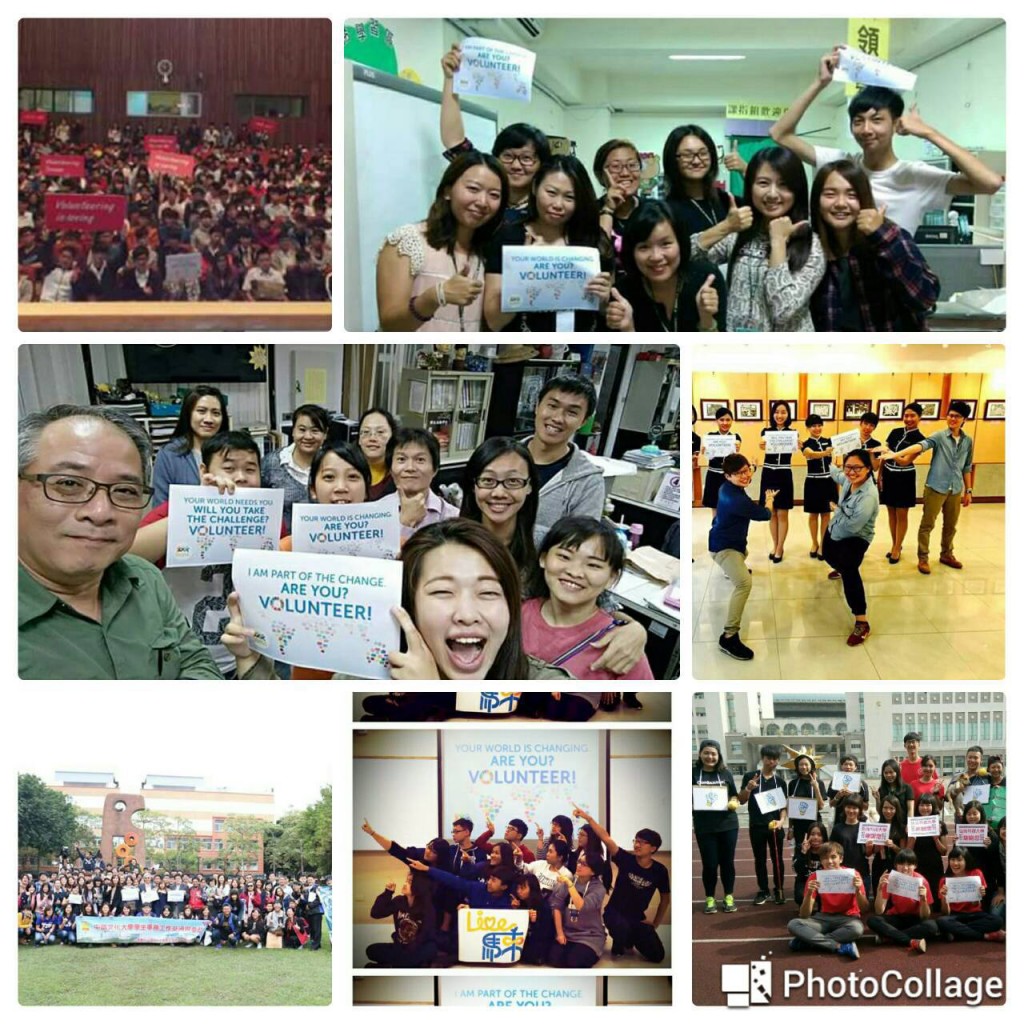 IAVE Taiwan celebrated volunteering with volunteers from around the world, since early December, by hosting a series of campus seminars on the "SDGs and Volunteerism". IAVE Taiwan invited students and faculty members from different universities throughout Taiwan to promote volunteering and kicked off the #IVD2015selfie Campaign with National Kaohsiung Marine University. Over 10 universities joined together in response to this meaningful campaign.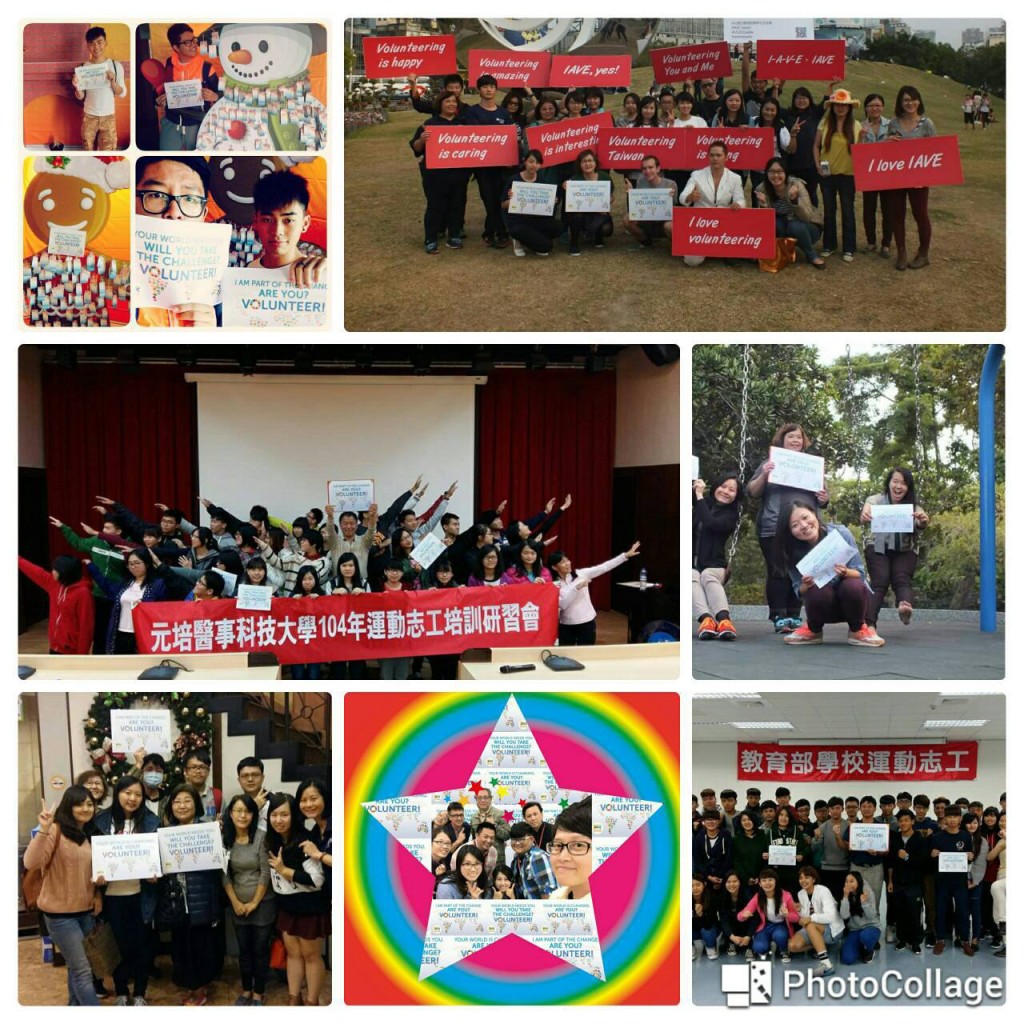 To heighten people's awareness of the contributions made by volunteers, IAVE Taiwan united a group of youth volunteers from Taiwan, Germany, China, Thailand, Vietnam, Japan, and the United Kingdom to attend the #IVD2015selfie campaign picnic in a busy MRT station in the heart of Kaohsiung city.  Each participant were requested to prepare one Christmas card, two books and three pieces of stationery for disadvantaged kids, to present as Christmas gifts. The day was a great success in sharing stories and spreading the message to others about the importance of volunteering.  "I'm committed to changing the world through volunteering" said one of the students from Hubei, China.  The gift collected from the enthusiastic volunteers will be sent to the kids in remote fishery villages,in collaboration with  Haxstrong Charity on December 21st.
Venezuela
Due to the elections scheduled during IVD, Venezuela celebrated International Volunteer Day a month early. The celebration was hosted by Federación de Instituciones Privadas de Atención al Niño, el Joven y la Familia (FIPAN), a active member of IAVE.

The program highlighted the work of Venezuelan volunteers, recognizing their efforts throughout the year. Keynote speakers such as Professor Amanda Soriano of Coral Mercantil, and Jorge Parra of Doctor Yaso were invited to present.
Vietnam
International Volunteer Day 2015 is also the 5th anniversary of the Vietnam Volunteer Center, IAVE's National Representative for Vietnam.
To celebrate, VVC organized two major events at the Hoa Binh Park in Hanoi. The event started at 8AM in the morning and lasted all day with over 10,000 volunteers and 50 organizations in attendance. Later in the evening, the National Volunteer Awards Ceremony was held, rewarding 12 organizations and 9 individuals for their achievements.
Organization Award Recipients:
Korean International Cooperation Agency in Vietnam
CP Vietnam Breeding Joint-Stock Company
Center for Sustainable Development Studies
The Youth Union of Yen Bai Province
Vietnam Social Enterprises' Network
The Youth Union of Ho Chi Minh Agriculture and Forestry University
Hanoi Young Doctors' Association
The Youth Union of Ho Chi Minh Power Corporation
'Red Cross Kitchen' Volunteer/Charity Group – Can Tho city Red Cross
'Thien Nhan and friends' programme
The Youth Union of Petrolimex – Vietnam National Petroleum Group
The Youth Union of VietinBank
Individual Award Recipients:
Mr. Nguyen The Tieng
Mr. Nguyen Kim Hoang
Professor Roberto Decastro
Mr. Nguyen Thai Thanh
Ms. Lo Thi Chien
Mr. Truong Tu Minh
Mr. Nguyen Huu Thuan
Mr. Bao Minh Tien
Artist Pham Gia Chi Bao
How did you celebrate International Volunteer Day 2015? Comment below and share your IVD story!