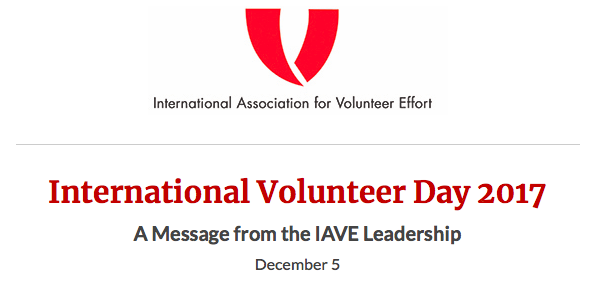 International Volunteer Day 2017 – A Message from the IAVE Leadership
#VolunteersActFirst Here. Everywhere is the theme for International Volunteer Day 2017, celebrated worldwide on 5th December each year since 1986.
Around the world we see every day examples of where volunteers are among the first to step up to support people in crisis, whether in conflict, through forced migration or as a result of deep economic instability, natural disasters or manmade emergencies.  They put humanitarian values first, often at great personal sacrifice.
But it is not just in times of emergency that we see volunteers among the first responders.  Even in times or communities of relative peace and stability, it is often local, concerned citizens that are the first to identify and name an issue or social or community concern.  As voices for peace, justice and community harmony volunteers frequently bring to light important matters that affect the livelihoods or lives of individuals or communities that would otherwise go unnoticed by others.  They advocate for change and act accordingly.
In times of great uncertainty where differences between people can become magnified, volunteers from all walks of life, whether participating as individuals in their own communities or as employees engaged through their companies' employee volunteering program, serve as a unifying force for good and the prosperity of humankind.
International Volunteer Day is an important opportunity to publicly recognise the contributions of volunteers who act first.  Here. Everywhere.
In doing so, IAVE reaffirms its commitment to continue to strive to be a universal platform for people of all cultures and regions who believe in the power of volunteering to change the world, to come together to share knowledge and ideas.
United by the 'Red V', the universal symbol for volunteering, and on behalf of the IAVE Board of Directors and IAVE members worldwide, we wish you a peaceful and celebratory International Volunteer Day.