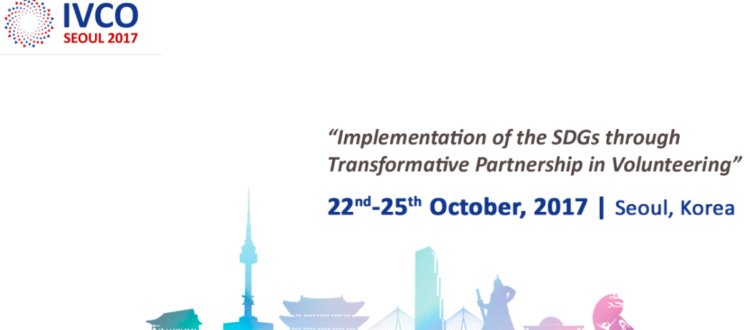 IVCO 2017 Conference Save the Date and Call for Proposals
By Korea International Cooperation Agency (KOICA) and International Forum for Volunteering in Development (Forum), IVCO 2017 Co-Organizers
[This article has been extracted from a special invitation email from the IVCO 2017 conference organizers]
We are pleased to inform you that the International Volunteer Cooperation Organisations' conference – IVCO 2017 – will take place in Seoul, Korea from Sunday 22nd to Wednesday 25th October, 2017. This year's IVCO conference is hosted by Korea International Cooperation Agency (KOICA) and the International Forum for Volunteering in Development (Forum) . The conference will focus on the theme Implementation of the SDGs through Transformative Partnership in Volunteering . You can find more information on .
Since the emergence of the post-2015 development agenda, the international community has agreed that  is one of the key areas in transforming our world and is also a critical means of implementing the . In this context, we believe IVCO 2017 can both build on previous IVCO conferences and provide a fresh perspective on strengthening transformational partnership in the light of the Sustainable Development Goals (SDGs). IVCO 2017 especially aspires to provide a platform for the strengthened collective efforts by volunteer involving organisations (VIOs), where various stakeholders create and demonstrate together innovative and transformative partnerships for the ultimate goal of ensuring no-one is left behind. Ideally, IVCO 2017 will result in a collective agreement on leading practice for transformative partnerships that utilise volunteers' contributions.
In line with this concept, IVCO 2017 will include three subthemes of debate and discussion: (1) enabling environments, (2) innovation and diversification, and (3) measurement.
We would like to invite interested organisations to share/present their perspectives and leading practices on volunteering in the following dialogue sessions:
Innovative Partnerships to Implement the SDGs in Asia-Pacific on Monday 23rd and Tuesday 24th October
Diversifying Volunteerism for the SDGs on Tuesday 24th October
Partnering to Demonstrate Success towards the SDGs on Wednesday 25th October
Please review the  for more details. Please submit the required documents directly to the website or to  by Friday 30th June, 2017.
We kindly ask you to save the dates for this event. The official invitation with access to the online registration will follow shortly.
We look forward to receiving your proposal and to welcoming you soon in Seoul!
---
Contact Us: