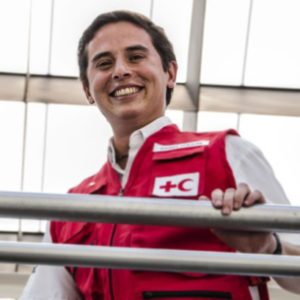 ANDRÉS MORALES
Coordinador Regional de Desarrollo de Voluntariado y Juventud de la Federación Internacional de la Cruz Roja
Como profesional internacional, Andrés ha apoyado organizaciones no gubernamentales, agencias de la ONU, gobiernos y organizaciones humanitarias en el desarrollo de iniciativas de educación y esfuerzos por garantizar y defender los derechos de los niños y los jóvenes a través de Asia-Pacífico, África, América, Oriente Medio y Europa.
Con más de 100 misiones en 50 países alrededor del mundo, cuenta con amplia experiencia en el desarrollo de voluntariado y juventud, educación no formal, consolidación de la paz, desarrollo sostenible, cooperación y liderazgo.
Actualmente, él es el coordinador regional del desarrollo de voluntariado y juventud de la Federación Internacional de la Cruz Roja en América, donde es responsable de apoyo técnico y coordinación con el fin de consolidar los esfuerzos en las áreas de voluntariado y juventud para hacer frente a las necesidades de las 35 Sociedades Nacionales de América para garantizar la continuidad de voluntarios que estén motivados, reconocidos, protegidos y capacitados, que a su vez, puedan satisfacer mejor las necesidades de las poblaciones vulnerables.
Él posee estudios especializados en capacitación, formación de instructores y manejo de grupos. Actualmente realiza un Doctorado en Estudios de Paz y Conflictos en la Universidad para la Paz de las Naciones Unidas. Cuenta con una maestría ejecutiva en Negociación Internacional y Formulación de Políticas del Graduate Institute of International and Development Studies en Ginebra, Suiza; así como estudios en educación, ciencias sociales, niñez y adolescencia en The Open University de Inglaterra; estudios en resolución de conflictos y manejo de equipos en operaciones de paz del Instituto de las Naciones Unidas para la Formación Profesional e Investigaciones; y estudios avanzados en conflictos no violentos del Fletcher School of Law & Diplomacy en Boston, Estados Unidos.

---
Otros Oradores Principales