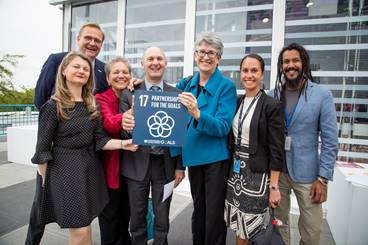 Now the Hard Work Begins…
By Kylee Bates, IAVE World President
We meet just one day after the historic adoption of Agenda 2030 to end extreme poverty, fight inequality and injustice, and protect our planet….[Today] September 26th is even more important than September 25th. Today, we begin the hard work of turning plans into reality.
-Ban Ki Moon, United Nations Secretary General addressing UN Private Sector Forum
Described as one of the most significant decisions taken by the 193 member states of the United Nations in its 70 year history, on Friday 25 September the UN General Assembly adopted 17 Global Goals contained within Transforming Our World: 2030 Agenda for Sustainable Development.
However it is the 5.000+ days over the next 15 years that will follow this historic day that will matter more. As the UN Secretary General noted in his remarks to the Global Compact's UN Private Sector Forum "declarations are easy… implementation is not…"
To some it will seem incongruous that IAVE would have a seat at this Forum of some 250 global private sector leaders to discuss the role that the private sector can plan in achieving the goals. Yet the logic is clear. One of the greatest opportunities – and assets – that the private sector has available to it to engage in, and directly impact, the sustainable development agenda is its employees. More specifically, through their employees' volunteering efforts.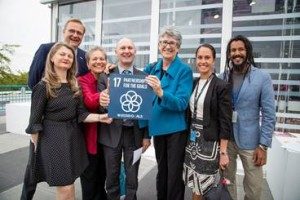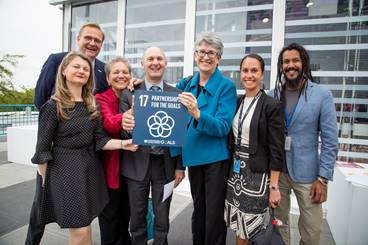 As IAVE's representative, I was able to advocate for the potential impact that corporate volunteering programs can have on the localization and achievement of the Global Goals, highlighting IAVE's Global Corporate Volunteering Council as a significant demonstration of what our 50+ member companies and their estimated 6 million employees alone could achieve when efforts are aligned with the sustainable development agenda.
However, more than the effort and impact of these employees alone, the significance of the contribution comes from the global, national and local partnerships with civil society and volunteer involving organizations that an important, indeed essential, ingredient for success.
IAVE's membership is diverse, comprising individual leaders in volunteering, volunteer involving organizations, volunteer centers, academics and companies and as our strategic plan highlights, we place high value on developing strong, sustained, mutually beneficial partnerships with NGOs, businesses, multilateral organizations and governments that share our belief in the power of volunteering to change the world.
The 2030 Agenda raises the premium on all IAVE members and friends already working in partnership with one another, and other key stakeholders, to ensure that the role of volunteers in achieving the global goals is not only recognized, but enabled.
The UN Secretary General is indeed right that it is now that we begin the hard work of turning plans into reality. Fortunately for us all, the words volunteer and hard work are synonymous.