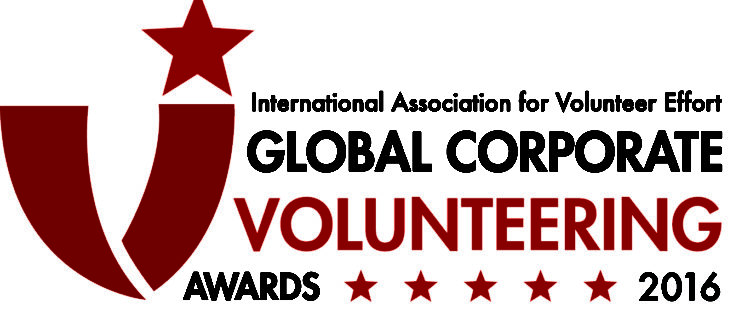 Press Release: IAVE Global Corporate Volunteering Awards 2016
The International Association for Volunteer Effort (IAVE) presented the IAVE Global Corporate Volunteering Awards at the 24th IAVE World Volunteer Conference in Mexico City on 9 November 2016. The Global Corporate Volunteering Awards, created by IAVE in 2012, are the only global awards to formally celebrate excellence in corporate volunteering.
Three different categories of corporate awards are presented biennially at IAVE's World Volunteer Conference. Presenting the awards was Eduardo Martinez, President of the UPS Foundation and Chairman of the Global Corporate Volunteer Council. Also on hand was Kylee Bates, World President of the International Association for Volunteer Effort. "We are proud to present these awards to truly outstanding corporate citizens, whose employees are doing incredible work in their communities around the world" said Ms. Bates.
The Global Volunteer Program Award recognizes a global company that shows an exemplary overall approach to global corporate volunteering – with a well-thought-out strategy that fits their values, priorities and culture; an understanding and appreciation of global issues and local realities; and activities that address serious problems in a thoughtful way. The 2016 Global Volunteer Program Award was presented to Bank of America. Susan Portugal, Senior Vice President in the Environmental, Social and Governance group at Bank of America accepted the award on behalf of the company.
Bank of America is one of the world's leading financial institutions, employing 200,000+ people and operating in more than 35 countries. Volunteerism at the company is a strategic and comprehensive platform integrated with its business, philanthropic, and marketing initiatives. In addition to enriching local communities, the company views volunteerism as an opportunity for employees to advance leadership skills, team building, and other skills development. Bank employees recorded approximately 2 million hours of volunteer time last year.
"Volunteerism is part of our DNA, and we've worked to build global citizens who are helping to address pressing challenges that matter to us while also enabling them to follow their individual passions," said Kerry Sullivan, president of the Bank of America Charitable Foundation.  "We're proud of the commitment of so many colleagues around the world who give their time, passion and expertise to improving communities."
Examples of the bank's volunteer program in action include:
As it expanded its 30 year partnership with Special Olympics, the company helped sponsor the first ever Unified Relay across America, a 46 day event during which more than 115 employee teams helped carry the torch to the Special Olympic World Games.
Last year, Global technology and operations employees in the Asia Pacific region launched a "Code for Change" program through which they developed technology solutions for NGOs, ranging from an app to help a food bank in Hong Kong collect food supplies, an educational game to promote better nutrition in Indonesia, and a monitoring system for children at risk of abuse in Thailand.
Aligned with its robust philanthropic support related to hunger relief, including a partnership with Feeding America and the Global Foodbanking Network, employees volunteer in local food banks, helping them deliver on their mission of serving those at risk of hunger.
The Inspiring Practice Award recognizes a global company that has created a high impact volunteer initiative designed to meet a specific community or societal need. This award is about tangible outcomes that resulted from a specific volunteer-based strategy to meet a particular need. The 2016 Inspiring Practice Award was presented to HSBC and to SAP.
The 2016 Inspiring Practice Award was presented to HSBC for its Water Programme. The HSBC Water Programme and specifically the FreshWater Watch project carried out in association with their NGO partner Earthwatch, provided a unique combination of world-class science with immersive employee engagement and leadership development. HSBC employees contributed to Earthwatch's freshwater research and education to help inform and transform water management through the creation of a robust global database populated with data on freshwater quality collected by HSBC employees. Miguel Angel Laporta, Head of Corporate Sustainability, HSBC Mexico and Latin America, accepted the award on behalf of the HSBC Water Programme.
The 2016 Inspiring Practice Award was presented to SAP for its Social Sabbatical Program. The Social Sabbatical program is designed to enable social impact through capacity building and leadership development and focuses on achieving triple impact – for participants, organizations and the company. The program is also designed so that cross-functional diverse teams solve critical business challenges for the social entrepreneurship and education sectors in emerging and developed markets while strengthening employee's leadership competencies, cross industry sector know-how and intercultural sensitivity. Alexandra van der Ploeg, Global Program Director, SAP, accepted the award.
A new award was presented this year to a company from the host country of the World Volunteer Conference. Grupo Modelo was the winner of the award for the Best Corporate Volunteering Program in Mexico. Grupo Modelo has done an outstanding job of not only mobilizing their employees to volunteer throughout Mexico, but it also engages friends and family of employees as well as the general public in a comprehensive volunteer program. Accepting the award on behalf of Grupo Modelo was Marcela Cristo Vaca, Director, Corporate Social Responsibility, Grupo Modelo.
To qualify for the award, companies may be headquartered anywhere in the world, but must have significant operations in at least three regions of the world: Africa, the Arab Nations, Asia-Pacific, Europe, Latin America and North America. Their employee volunteer efforts must be equally global. Applicants were scrutinized using four main criteria: globalization of approach and perspective; partnerships and collaboration, impact on communities, employees and the company, and processes for continuous improvement. A panel of eight judges from around the world, all with expertise in corporate volunteering, evaluated nominations and helped to make the final selections.
Lorrie Foster
+1 201 406 4007