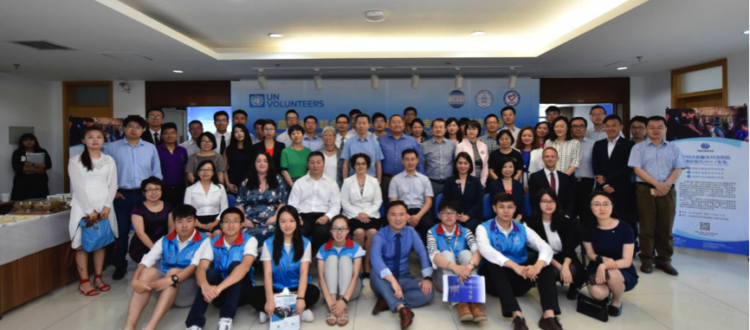 Research seminar on Chinese volunteering for the SDGs
By Flora Chung, CEO, AVS, IAVE National Representative, Hong Kong
Representing Agency for Volunteer Service (AVS), I attended the Research Seminar on Chinese Volunteering for the SDGs and the Plan of Action held in Beijing with my colleague Mr. Tevas Lau on June 9th. The seminar was jointly organized by United Nations Volunteers (UNV), Beijing Volunteer Service Federation (BVF), China International Center for Economic and Technical Exchanges (CICETE) and Beijing Normal University (BNU). It brought together around 100 representatives from volunteering organizations, academia, government and private sectors, to discuss national priorities for research on volunteerism towards SDGs, and to explore the new model and opportunity for future cooperation.
The growth of volunteering in Mainland China in the recent decade has been very impressive due to government policy and financing, as well as the promotion of multiple sectors in recognition that volunteering can make a significant contribution towards sustainable development. The need and importance of research to evaluate the impact of volunteering were stressed. The seminar also marked the launch of a volunteering alliance, to unite organizations, to share information, experience and resources, and to strengthen cooperation on volunteering to facilitate the implementation of the Belt and Road Initiative (BRI) and the SDGs.
In the panel discussion on international volunteering, I was invited to present the service model of the UNV-Hong Kong Universities Volunteer Program, which was launched in 2015. The initiative allows 20 university undergraduates each year to volunteer on a 6-month assignment in South East Asian countries such as Bangladesh, Cambodia, Laos, Myanmar, Philippines, Sri Lanka, Thailand, Timor-Leste, Vietnam etc. Mainland China has started similar collaboration with UNV by sending 2 young people to Thailand and Myanmar respectively as pilot for future planning and development of a similar program.
We met Mr. Ding Chenhui, IAVE National Representative for China at the seminar. Special thanks for his warm hospitality and lunch the next day! I also took the opportunity to visit Beijing Volunteer Service Federation for exchange and catch up. We learned a lot from one another about volunteering development between Mainland China and Hong Kong. The trip was very brief but rewarding.