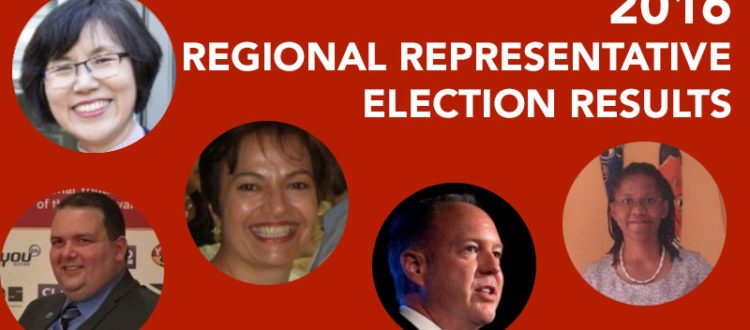 Results from the Regional Representative Elections
These past few weeks, we invited eligible IAVE members to vote to elect a candidate to be the Regional Representative for their respective regions. Terms for five out of the six IAVE regions were up election. After several weeks of voting, here are the results of the elections:
Africa Regional Representative – Agnetta Nyalita (Kenya)
Asia-Pacific Regional Representative – Yoonae Park (South Korea)
Europe Regional Representative – Mark Molloy (United Kingdom)
Latin America Regional Representative – Iraida Manzanilla (Venezuela)
North America Regional Representative – Jeff Hoffman (United States)
Learn more about each of the regional reps here.
Speaking on behalf of the entire board and membership, Kylee Bates thanked the candidates for standing for election, writing "The willingness of people to put themselves forward for volunteer leadership positions is one of the great strengths of NGOs and has been at the heart of IAVE's successes for 46 years.  Each of you as candidates brought unique skills, backgrounds, experience and perspective to this election.  To those of you who were elected, we offer our congratulations and look forward to what you will bring to the board.  I will be in touch with each of you shortly to make arrangements for your board induction and details of your first board meeting.  To those who were not elected, we offer our gratitude and our hope that you will remain active in IAVE and continue to find ways to be of service in the organization.  We want and need the energy and commitment of all of you."
The terms of outgoing board members Eugen Baldas (European Regional Representative and Vice President), Ruth MacKenzie (North America Regional Representative and Treasurer), Elizabeth Okezie (Africa Regional Representative) and Wendy Osborne (Volunteer Centre Representative and Secretary) have now concluded.  IAVE again thanks each of them sincerely for their contribution and commitment to the work of the Board and to volunteering globally.