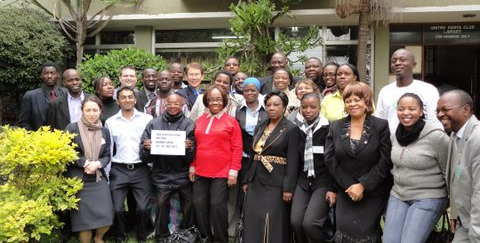 Rose Ekeleme
Extraordinary Leader of Volunteering
in Nigeria and the World
1939-2018
With Love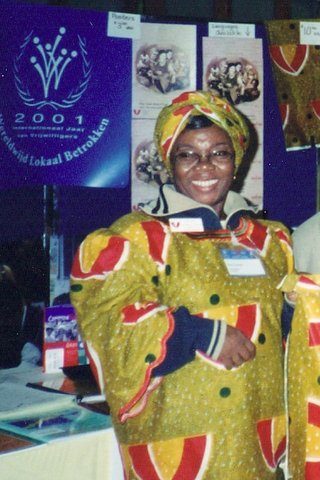 Dr. Rose Ekeleme, former Vice President and member of the IAVE board of directors, died on February 5 from complications of Parkinson's disease and breast cancer. She had an extraordinary career as an educator, a government official, a volunteer, and a pioneering leader of volunteering in Nigeria.
She served on the IAVE board of directors from 1996 through 2004, including a term as Vice President. She built IAVE Nigeria into a strong volunteer force, one that for many years boasted the largest number of IAVE members of any country in the world. She also organized and hosted the African Regional Conference in Abuja, Nigeria in 2000, a true adventure for those of us who were fortunate enough to attend.
The picture above is my favorite of Rose. She is wearing the "official" IAVE Nigeria outfit, brightly colored, featuring the IAVE logo. She is smiling the smile that always brightened whatever room she was in and reflected her intensely positive attitude. It was a great honor to have had the opportunity to serve with this extraordinary woman whose leadership and energy was very important during my term as World President. I loved her very much and will miss her.
To honor her memory, it seemed most appropriate to invite others who served with her to share their thoughts. Each is part of IAVE's story, part of our history and each made their own vital contribution to what we are today.
Kenn Allen
World President, 1996-2001
---
I would like to add my condolences. Rose was a very thoughtful soft spoken but strong leader. She was always cooperative. She was willing to show her nation's cultural heritage. Her fashion style was the best during the cultural night of 2002 world conference in Seoul. I hope she rest in the hands of our Lord.
Dr. Kang Hyun Lee
World President, 2008-2014
---
Though she had visible challenge(s), one of which was occasional poor speech coordination due to the Parkinson disease/brain surgeries, yet she remained relevant and occupied official position(s) within her State government (Abia State, Nigeria) till 2016/2017.
Dr. Rose was a force to reckon with. Not for a day did she look or seem overwhelmed by her health challenges, but remained cheerful and sailed above it all till her last breath.
An amazon of a woman!
Elizabeth Okezie
Former Regional Representative for Africa and Member of the Board
---
I heard this week of the death of Rose Ekeleme and that prompted me to take down a picture, which I have on my bulletin board, of the Board of IAVE meeting in Japan in late 2001. I am standing behind Rose who is looking very smart in a lovely blue patterned dress and matching hat. (She was always stunning in what she wore). There is a big smile on her face which radiates the warmth which I remember her for.
I was privileged to share my years on the Board of IAVE with Rose. I admired her for her energy and wisdom and for the tremendous effort she put into developing IAVE in Africa. I always regretted that I didn't get to attend the regional conference she was able to spear head but always enjoyed the reports from these wonderful events. IAVE was richer for having Rose as an advocate and board member and those of us who served with her will never forget her.
Sandra Murphy (Canada)
Former Member of the Board
---
I recall meeting Rose Ekeleme for the first time at one of the IAVE World Conferences. It might have been the one in South Africa in 1996. Going back then in 1999, I can vividly recall her enthusiasm and her commitment at the African regional conference, which she organized very successfully in Abuja. Thereafter, we met in other meetings but we both started working together when I occupied the 2nd position as IAVE Board member for Africa in 2002. At that time, she was already serving her second mandate as IAVE board member for Africa. I still recall the good memories of working together with her for the benefit of all IAVE members. During our mandate as Board members, she identified our geographical region in such a way that it worked well for all the IAVE members in Africa: She dealt with the Western and Central Africa members while I dedicated myself to the Eastern and Southern Africa sub regions. For sure, she was adamant in taking forward the volunteer agenda in Africa. Rose Ekeleme will be remembered as an active and devoted IAVE member in every position that she occupied in the organization.
Mahendranath Busgopaul (Mauritius)
Former Member of the Board
---
I have so many fond memories of Rose Ekeleme over the years. She was a very hard working and passionate board member, never one to hold back. Rose did an excellent job of representing Africa and Nigeria and built a very strong team of volunteers in Nigeria. Her smile and that twinkle in her eyes was a pleasant greeting I always looked forward to when we met. Perhaps one of the craziest times with her was during our preparation for the Africa Regional IAVE conference in Nigeria in 2000. IAVE was fortunate enough to have received a grant from the Nippon Foundation in support of the conference. We would laugh at the contingency plans we would make to be sure we were able to speak a couple times a week during the planning. There were countless missed calls due to heavy rains either knocking out phone lines, flooding and mud that prevented Rose from getting to a phone or it was raining so loud we couldn't hear each other speak, and sometimes there just wasn't electricity… When we finally spoke she would say, 'well you know Kathi, this is Africa.' She will be greatly missed by the IAVE community as well as the network of volunteers around the world. Rose Ekeleme will always hold a special place in our hearts.
Kathi Dennis
Former Executive Director and Member of the Board of Directors
---
Rose was one of those gems we meet in life. She was a good listener, compassionate, respectful and responsible in all she undertook. As a medical doctor Rose believed deeply in the value of volunteering as a tool for the wellbeing of the individual who volunteered and for the benefit of the community they served. She was a tireless advocate for IAVE and all its work.
Margaret Bell
World President, 1988-1996