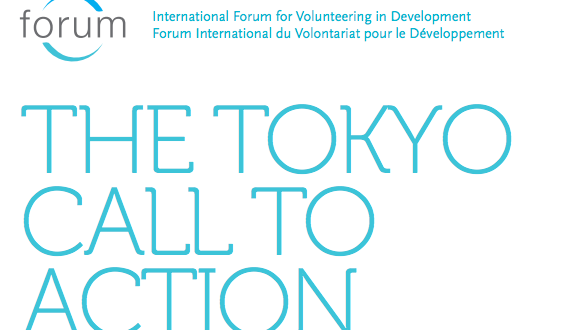 Sign the Tokyo Call to Action Today!
Representatives of international volunteer cooperation organizations and volunteer-involving organizations from around the world gathered in Tokyo 4th–7th October 2015 for the annual meeting of the International Forum for Volunteering in Development (Forum).  The conference aligned with the world's adoption of the new development agenda and its 17 global goals, and therefore concluded with a Call to Action committing Forum to support efforts to achieve the goals through action at local, national and global levels.
During the annual board meeting in Manama, Bahrain on September 9, 2015, IAVE's Board of Directors reviewed the Tokyo Call to Action and have endorsed this declaration.
We are now sharing this Call to Action with you to review and endorse. Please take the time to read through the CTA and sign the declaration online.
Click here to read the Tokyo Call to Action and to sign the declaration.