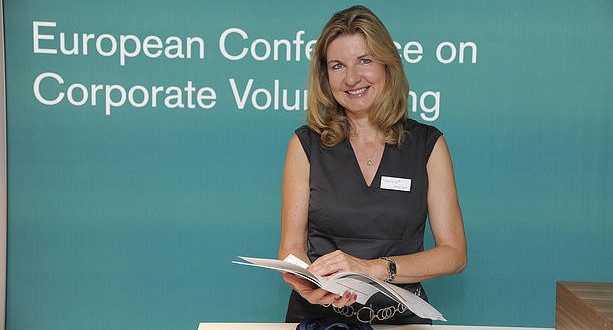 Successful European Conference on Corporate Volunteering
"How much does it matter to me?"
That was the question posed by Lord Michael Hastings, Global Head of Citizenship for KPMG International, to participants in the European Conference on Corporate Volunteering.
The question came at the end of a creative and inspiring presentation he had delivered about the challenges raised by the realities of the world that have led to the United Nations Sustainable Development Goals (SDGs).
His point was forceful. At the end of the day, each individual must ask what issues like poverty, injustice, environmental degradation, inequality, the growing forced migration of people seeking safety and on and on – what such issues mean to them and what they are willing to do about them.
"How much does it matter to ME – not how much does it matter to my employer, my government, my religious group, my neighbors? What will I do to create and support change?"
On August 31 and September 1, some 120 people from global companies and NGOs gathered at Seminarhotel Bocken, just outside Zurich, Switzerland for this first conference co-hosted by Credit Suisse and IAVE.
In his opening keynote speech, Richard Dictus, Executive Coordinator of United Nations Volunteers, posed the challenge that framed the entire conference: how will the business community respond to the SDGs? Will they commit to a clear, high priority focus on contributing to achieving them?
He emphasized the need for "co-creating" a new approach to development that takes into account institutional realities and potential benefits of collaboration within and across sectors. His key "take home messages" were these:
Integrate the SDGs into corporate social responsibility programs.
Discover new spaces and open them up. Select the entry point most appropriate for you.
Develop new partnerships and change the rules.
Work from your corporate strengths (including skills based volunteering).
Combine philanthropy (money) and volunteering (people).
IAVE also held a special pre-conference meeting for members of the Global Corporate Volunteer Council and other invited companies that focused on the state of health of corporate volunteering in Europe.
Members of the IAVE Board of Directors participating in the conference were Kylee Bates, World President who spoke at the opening plenary and moderated two forum sessions; Wendy Osborne and Eugen Baldas who each moderated a forum session.
The IAVE Secretariat team on site were Kathi Dennis, Lorrie Foster, Ramona Dragomir and Kenn Allen. Supporting from the Secretariat office was Jessica Han who had developed the conference website and conference materials.
The conference website features available videos, PowerPoint presentations and other materials from the conference. Please visit www.iave.org/euro2015.