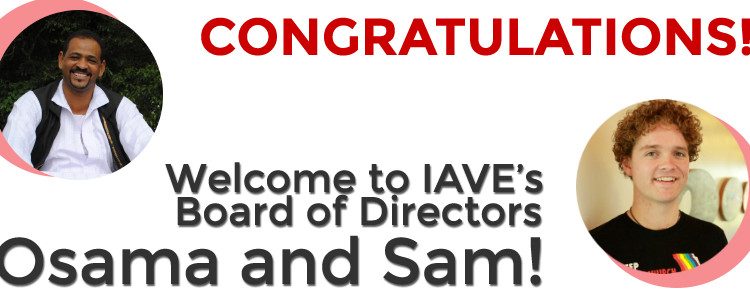 Welcome to IAVE's Board Osama and Sam!
The results of the Arab Nations Regional Representative and Male Youth Representative nominations are in! Please give a huge welcome to Osama Mustafa Suliman and Sam Johnson for becoming new members of IAVE's Board of Directors!
About Osama and Sam

Osama Mustafa Suliman
Arab Nations Regional Representative 
First appointed in August 2012, Osama has been an active national representative for Sudan, effectively increasing membership and encouraging participation of Sudanese members in IAVE's conferences. Thanks to Osama's efforts these past few years, Sudan has the largest number of memberships in the Arab Nations region, spanning from all regions of Sudan. Osama has also consistently contributed articles for the E-IAVE, IAVE's newsletter, and has take the initiative to promote active communication between the national representatives of the Arab Nations. He is Program Coordinator at the Sudanese Red Crescent.
Sam Johnson
Male Youth Representative 
Sam is recognized as an important youth leader in New Zealand and the global volunteer community through his various accomplishments. He founded the Student Volunteer Army in 2010, following the Christchurch earthquake. Since then, he has been a figure for mobilizing youth volunteers in disaster response. Sam is regularly called upon to lead the establishment of the SVA model for communities worldwide who are also experiencing disasters. Most recently he aided in the relief of the Nepal earthquake. Sam's work and leadership has earned him several recognitions, including the 2012 Youth New Zealander of the Year award.
Leave them a congratulatory message by commenting below!