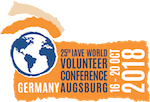 Thank you for your interest in participating in the pre-conference volunteer activities and project visits for the 25th IAVE World Volunteer Conference.
Please complete the form below to RSVP. To learn more about each activity, use the drop down menu for more details. Please note that capacity for each activity is limited. Once the activity is filled, it will not show up in the drop down below.
If you are the lead contact for your delegation, please share this link with the members in your group.
If you have any questions about the activities, please email [email protected].