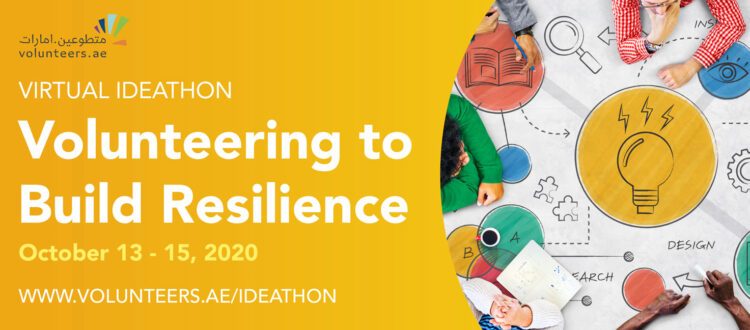 Virtual Ideathon – Volunteering to Build Resilience
In the spirit of making a difference and supporting the vulnerable, we are calling for volunteering organizations and NGOs to enter their actionable ideas and innovative solutions in the Volunteering to Building Resilience Virtual Ideathon!
Brought to you in partnership with Emirates Foundation, we invite passionate teams of volunteers to participate in this 3-day event to address key challenges across three themes:
Volunteerism in the Medical Sector
Volunteerism in Mental Health Support Sector
Volunteerism to support he Vulnerable.
The competition will take place virtually from October 13-15, 2020
Over the course of the three days, teams will attend workshops, discussions and mentoring sessions to draft and pitch their proposals for actionable solutions to key challenges under the three themes. The final proposals will be evaluated by a panel of judges.
 The winning teams for each of the three themes will be awarded a $25,000 GRANT to implement their ideas in their communities!
APPLY BY SEPTEMBER 28th to participate!
LEARN MORE AND REGISTER