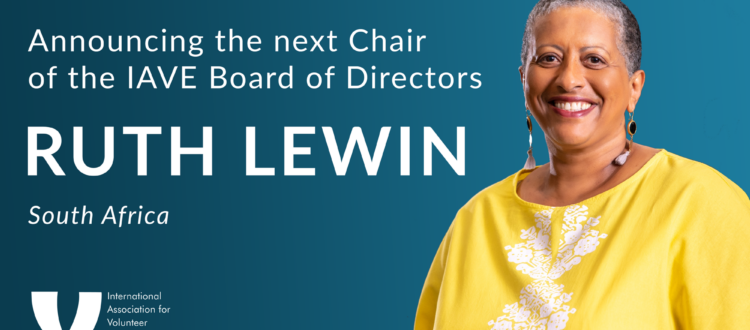 Congratulations to the New IAVE Board Chair, Ruth Lewin
It is with great pleasure and pride that I announce Ruth Lewin as the next Chair of the IAVE Board of Directors.  Ruth is a leader for the complexities and opportunities we face today, one who will no doubt bring compassion, wisdom and a keen sense of strategy to IAVE as we embark on the next chapter of our work.  Please join the rest of the IAVE Board, and me in both celebrating Ruth's appointment and welcoming her to what is our large, diverse and passionate family.
I also wish to extend a warm regard to Brij Bali who was a candidate of equal measure. We know that Brij will continue to be the great friend he has always been to our organization and to volunteering globally.
We still have a few weeks before we need to bid farewell to Kylee Bates; she will remain as Board Chair through early October.  We will hear from Kylee in the coming days so, I will hold off any sentiments of appreciation and gratitude – and there are many! – until that time.


Nichole Cirillo
Executive Director
About Ruth Lewin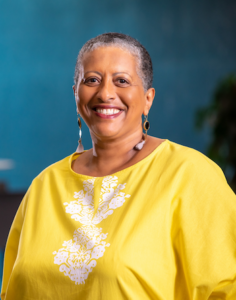 Ruth Lewin has worked in the non-government, government and corporate sectors for 40 years. Over the span of her career, she has held positions in community organizations, worked for the Independent Communications Authority of South Africa and the International Marketing Council of South Africa in Washington DC.
Some of Ruth's proudest contributions has been in anti-apartheid work during the 1980s building civic organizations and supporting work amongst youth and women. She was responsible for the administration of the African National Congress delegation at the Groote Schuur Talks about Talks in 1990. Ruth was also appointed Western Cape head of administration in the first democratic elections in 1994 and Western and Northern Cape regional manager for the Truth and Reconciliation Commission in 1996.
She joined Discovery Limited in 2004 and her first task was to establish an independent social investment vehicle, the Discovery Fund, which has a clear mandate of investing in the delivery of primary healthcare services.
In October 2004, Ruth launched the Employee Volunteer Program within Discovery with the intention of linking volunteerism to beneficiary organizations of the Discovery Fund. Not only is volunteerism positively impacting communities, it is also embedded in the company culture. Employee volunteerism within Discovery is integrated into the Employee Social Value Proposition and is recognized as such.
In 2006, Ruth was tasked with the responsibility of establishing and running a second investment vehicle, the Discovery Foundation, with the objective of investing in training medical specialists within the public health sector. Both mandates were to meet very specific health needs within South Africa.
Towards the end of 2007 Ruth joined her husband in Washington DC where he was the South African government representative to the International Monetary Fund. She returned to Discovery in 2010 and currently serves as the Head of Corporate Sustainability at Discovery. As a company that has a shared value model, Discovery's approach to corporate social investment (CSI) is integrated into its overall business model.
Ruth has led the team that implemented a multi-stakeholder initiative, with volunteerism as a central component. The aim was to implement a sustainable development approach to addressing multiple challenges within one single community, utilizing appropriate volunteer skills.
During her time at Discovery, Ruth has presented the company's CSI philosophy and program on a range of national and international platforms and specifically at the IAVE World Volunteer Conference in Mexico City in 2016 and at the International AIDS conference in Amsterdam in 2018.
Ruth currently serves and has served on several Boards, namely:
Discovery Fund (Current)
Mother and Child Academic Hospital (Current)
Nisaa Institute for Women's Development (Past)
Sports Science Institute as alternate member representing Discovery (Past)
Grassroots community newspaper (Past)